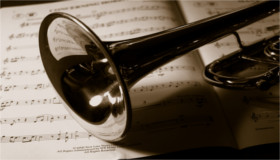 Jazz and Classical music have always been seperated into two different categories and not often associated as one entity. You do not come across any venues that are hosting a Symphony Orchestra and a Big Band on the same night.
The two genres have not usually been seen as two synergistic pieces of something much larger and greater combined than separated. This isn't saying that composers of the early 20th century have not tried to write something great utilizing the two. As early as when Jazz was recognized as a distinct style of music there had been multiple attempts to fuse the two genres.
Famous pieces utilizing this fusion include George Gershwin's Rhapsody in Blue, Darius Milhaud's La Creation Du Monde, and Igor Stravinsky's Ragtime. These pieces contained many classical and jazz elements which worked fantistically with each other. Although these examples are not exactly considered Third Stream they are early examples of Third Stream music.
In 1961 Gunther Schuller defined the term Third Stream as a new genre of music that is located halfway between jazz and classical music. Shculler strictly stated that "Third Stream music is just another option amongst many for today's musicians".
Mid to late 1950's Gunther Schuller, John Lewis, J. J. Johnson, and Bill Russo were the significant compsers to attempt to bridge the gap between jazz and classical music. Unfortunatley for Third Stream, Free Jazz became more influential in music during the late 50's and overtook the development of music and where it was headed.
There are still so much potential and unpredictability as to where jazz and classical music is headed. There might come a day where the purists of both sides start to merge the two genres. There are more and more composers today who are utilizing the elements of both styles, so who knows for sure what the future may hold.
Posted 2016-02-06 04:08:03 by Darrell

Your website can go viral, you need some initial traffic only.
But how to get initial traffic? Search in google for: Leaghk's
method to go viral
Posted 2017-01-23 04:29:42 by ShawnTag

Christmas Piano
Christmas Background Music
Perfect instrumental background music for romantic and sentimental films, presenting your business, new products or your company in general with an optimistic and motivational touch.
Visit site: https://audiojungle.net/item/christmas-piano/19056234/
Twitter @esif22 https://twitter.com/esif22/status/805286803875958784